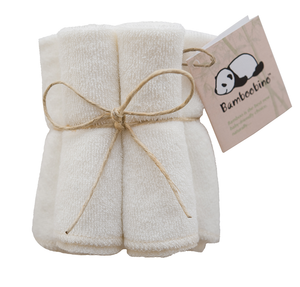 Bamboobino bamboo baby washcloths are the ultimate must-have for new parents.
These washcloths are super-soft, hypoallergenic, and more absorbent than regular cotton washcloths.
Made from 70% rayon from organically grown bamboo and 30% organic cotton, Bamboobino washcloths are double-sided terry, and are durable, thirsty, and perfect for wiping or washing newborn skin.
Sold as a set of 5. Measures 8" x 8". Great for nursing, mealtimes, bath time or diaper changes.

Our washcloths have won Parent Tested Parent Approved Award! Just read what parent testers had to say:

"I found these wash clothes to be very soft and absorbent, easy to clean and care for and very durable to with stand the washing machine.The clean white colour, and terry cloth like material on both sides of the cloth make bath time fun and easy. Since the wash clothes are made from natural products it was great for my baby's sensitive skin. A package consists of 5 wash cloths, a little pricey compared to others out there but some may find it well worth it for the quality is incomparable."

"Bamboobino baby wash cloths are great to use for a variety of baby's and mom's needs! We really like them for bath time, but they are also great for nursing. My husband and I love how soft they are on our newborn daughter's delicate skin! They are super absorbent and hypo-allergenic, which we really like. We would recommend them to anyone looking for high quality wash cloths."

"This is a great product and it is light weight and hold up amazingly. I will be giving this as a gift because I like this better then any other cloth I have had."

"If you want a super soft, absorbent washcloth for your babies, this is it! No patterns, no colours just simple, natural and bamboo. As far as I'm concerned you can't have enough cloths in the house with little ones. And these are great!"

Emily writes:
I ordered these washcloths for my mother and she absolutely loves them, says they are very soft and perfect for sensitive skin. The shipping was quick with no complications and the product was very nicely received :) Thanks so much - Looking forward to purchasing more products from your company in the future.
Baby Washcloths volume discount