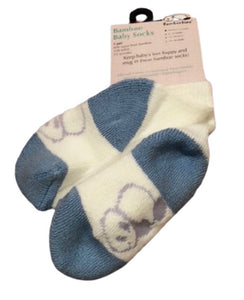 Sold as is, final sale. May have slight fabric flaws, small marks or minor sewing imperfections. Or is described in the variants. Item is new, never used or returned, and will function just as well as a 'perfect' product.

Keep baby's feet happy and snug in these adorable socks! These socks feel like no other—they are super soft and wick moisture away from little feet! Our panda logo is woven into the soles (not rubberized grips). Depending on how baby sits (ie, feet turned in), the pandas "meet"! For convenience, the size is woven into the inside cuff.
This is an already discounted product, and cannot be used with coupon codes or other specials.