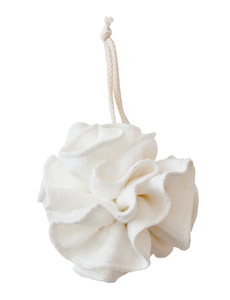 Our bamboo version of the classic bath pouf.
A fun washcloth alternative to lather up, make bubbles, or toss around in the tub!
Please care for as you would a washcloth.
Best replacement so far
I bought this looking for a replacement for those plastic bath poufs that get thrown in the trash every few weeks. From that aspect this is quite good- the fabric and stitching are pretty durable, and I expect it to last for some time. It's also nice and soft, so it's gentle on the skin but still can scrub/clean pretty well.
Downside is it loses most of its shape when wet (I mean it -is- cloth) so it's a bit like a wadded up washcloth and so it doesn't lather nearly as well as the plastic ones. It's also a lot smaller than I expected; it takes some getting used to when using on humans larger than babies. It's better than a washcloth in this regard, but it's not 100% what I was looking for.
Overall happy with the purchase- it's reusable, washable, gentle, and seems well made.