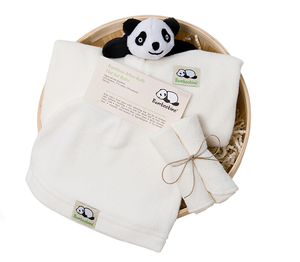 Enclosed Hooded Wrap, After-Bath Hat (nb-6m), 2 Baby Washcloths & a 6" Baby-Safe Plush Panda beautifully presented in a lined bamboo basket.

Featuring Inda the Panda to our gift baskets! Designed from our logo, she lies on her belly and also sits up looking at you in a way that will make you melt!

What's special about Inda is that she's our fundraising bear—every season proceeds from products with Inda will go to a charity—and this season, she contributes to providing masks, scrub caps and buttoned headbands for health care workers during the COVID-19 crisis.

It's the perfect cosy starter set to welcome a new baby!
This is a bundled offer, products are already discounted and cannot be used with other coupon codes or specials. 

Amazing products and customer service!
The person who received the gift basket and a few other items as a baby shower gift loved the quality, practicality and variety of products.