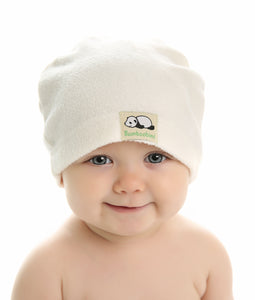 A warm and absorbent terry hat to finish drying baby's hair.
For use for 1/2 hour after baby's bath or swim.

Hat circumference sizing:
nb-6m: 13.5" (34cm)
6-12m: 16.5" (42cm)
12-24m: 17.5" (44cm)
24-36m: 19" (48cm)
So soft
The fabric was so soft and plush. Quality very high. Would recommend product to anyone considering a gift for baby.
An essential for babies!
I love this after-bath hat. In fact, before using it on my own baby, this was always part of the new parent gift package because I heard so many good things about it. Now that I'm a parent, I see how practical is to keep my baby warm and dry out his hair before bedtime. He loves wearing it because it's so soft and comfortable. I just love the material and all the products that Bamboobino carries. Such great quality.
Every mom should have one
I love these bath hats.
I first came across these in 2015 when my first baby was born.
I initially bought the 0-6m size. It was so soft and kept my baby's head warm and dry I came back and bought 2 in each size.
Now in Jan 2020 my second baby was born and I came back and bought 1 in every size.
It's perfect during and after baths. The fabric is so soft, and it dries my little sweetie's head and keeps him warm too.
I think every mom should have these, along with the apron towel.
These also make the best baby gifts.
If you are a mom, or going to be one look no further and buy these you won't be disappointed.
My daughter is now 4 and still wears her bath hat... I wish they made them in adult sizes.